Peter Steele (b. 1962 - d. 2010)
Vocalist/Bassist (Type O Negative)
It always seemed apparent that the time that Brooklyn born Petrus T. Ratajczyk, better known to fans of Goth Metal as Peter Steele, last felt truly free was while working for the New York Parks Department. At this time his 80's Hardcore/Thrash Metal band Carnivore had come to an apathetic demise after just two albums, and the thought of starting a new band was the last thing on his mind. Instead he'd occupy himself raking leaves, mending fences, and thinking up new euphemisms for maggots ('dancing rice' being a popular one among his colleagues).
Then it all went wrong. He broke up with his long-time girlfriend, attempted suicide, and wrote an album that saw him signed back to his old record label. The album was 1991's 'Slow, Deep and Hard' a Hardcore/Doom Metal crossover about infidelity, self-loathing, and everything that pissed off and depressed the six foot six Steele in the previous year. The album was loved by some, and hated by others (including Steele).
"… it was only supposed to be a demo. I was drunk and pissed and I wrote the whole thing in 4 hours. Little did I know that demo would be pressed into an album. So we were pretty much trapped into something I wrote in a span of a few hours […] If I had to do it over, Bloody Kisses would be the first album." -Rock Out Censorship [http://www.theroc.org/roc-mag/textarch/roc-18/roc18-06.htm]
The Band was condemned by domestic audiences as communists and homosexuals for Steele's Russo-Icelandic heritage and sensitive lyrics. Internationally they feared little better with most of the European tour cancelled due to anti-fascist groups labelling them a Nazi band (despite Keyboardist Josh Silver being Jewish).
The disastrous tour was immortalized by the band when Roadrunner Records gave them money to do a live album. The band instead spent the money and recorded a fake live album in a basement with their friend's heckling them with the now familiar "You Suck" as an overdub. The album "Origin of the Faeces: Not Live at Brighton Beach", became a cult hit for its dry humorous take on a Type O Negative live show and the cover of Jimi Hendrix's 'Hey Joe' (re-dubbed 'Hey Peter'). Their label, however, did not see the funny side of it. The album, despite being reworked tracks from their debut, displayed a different approach to the song writing. Under Steele's direction, Silver's keyboards were mixed higher and became more Ambient and Gothic in sound.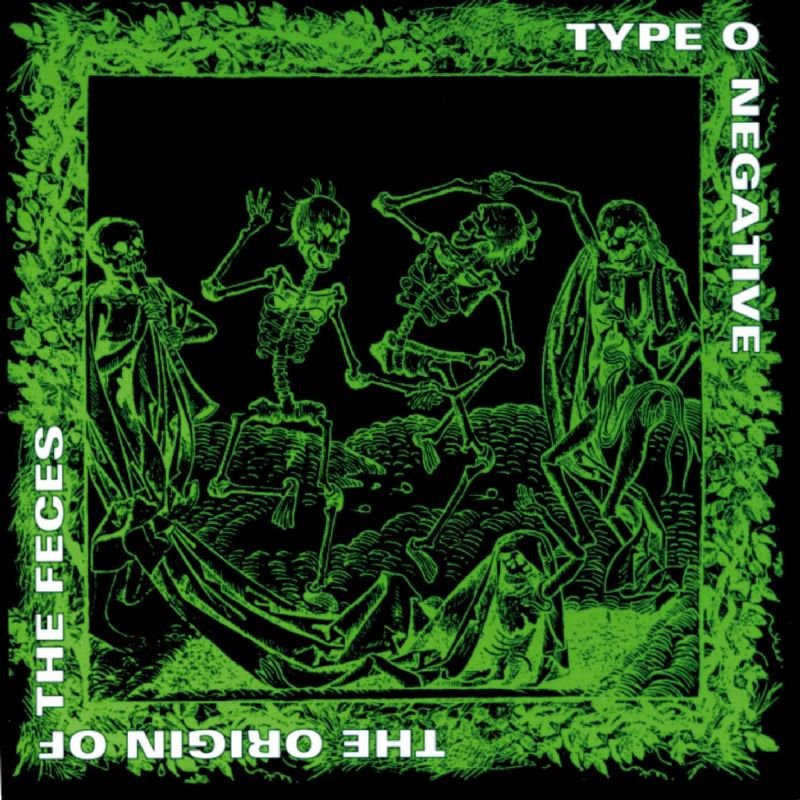 This carried over onto the bands 1994 sophomore album 'Bloody Kisses'. This time the anger was running second fiddle to elaborate Gothic hymns to female stereotypes ('Black No.1' and 'Christian Woman') as well as misery and heartache ('Too Late: Frozen' and 'Bloody Kisses - A Death in the Family'). The album was originally released with many instrumental and humorous tracks, but after the videos for 'Black No.1' and 'Christian Woman' received play on MTV a re-edit and re-release of just the core tracks propelled the album to gold status. A first for the band and their record label.
With the band's stock rising internationally and domestically the band crafted a dramatic stage presence on tour with bands such as Mötley Crüe and Nine Inch Nails, with Steele's vampiric persona and trademark red wine consumption dominating reviews. The label eager to capitalise on the band's success pushed Steele for a follow up.
"I don't know what drugs they were on. I guess they wanted to make another remake of Bloody Kisses, Bloody Kisses II or something like that. They didn't get it." - NY Rock [http://www.nyrock.com/interviews/ton_int.htm]
The album that Peter wrote instead was a milestone in what came to be known as 'Goth Metal'. Part Gothic Rock, part Psychedelic, and filtered through Black Sabbath style guitars - 1996's 'October Rust' turned Type O Negative into an international force. The band embarked on tours with Pantera, Ozzy Osbourne, and headlined festivals in the USA and Europe. MTV once again came calling and the romantic and playful videos for 'Love You To Death' and 'My Girlfriend's Girlfriend' turned Steele into a reluctant sex symbol. Appearing on Jerry Springer and Riki Lake as an example of the definitive "Metal Male". It wasn't before long that Playgirl magazine invited Steele to do a spread - though Steele was said to be embarrassed after finding out that most of the magazine's subscribers were in fact men.
"After I did it, I thought, "Oh my God, what did I do?" It was more than upsetting that so many guys had it. Girls, OK, but there just seemed to be at least as many guys. Not that I'm homophobic, but it was certainly irritating." - NY Rock [http://www.nyrock.com/interviews/ton_int.htm]
Part 2 tomorrow...